Sharing 5 of my favorite salad recipes that you can easily make as meal prep to enjoy throughout the week.
When you're eating a salad but also thinking about the tacos you're going to eat later.
JK I love salads… almost as much as tacos. ? They're one of my very favorite meals because it's such an easy way to get in a ton of nutrients and the high fiber content keeps me full and satisfied. I try to have at least one salad per day, either for lunch, alongside dinner, or even for breakfast (don't knock it til ya try it). When I make a chopped veggie salad for dinner, I save the leftovers to enjoy the next day. This way I just have to add some protein and dressing, and it's ready to go.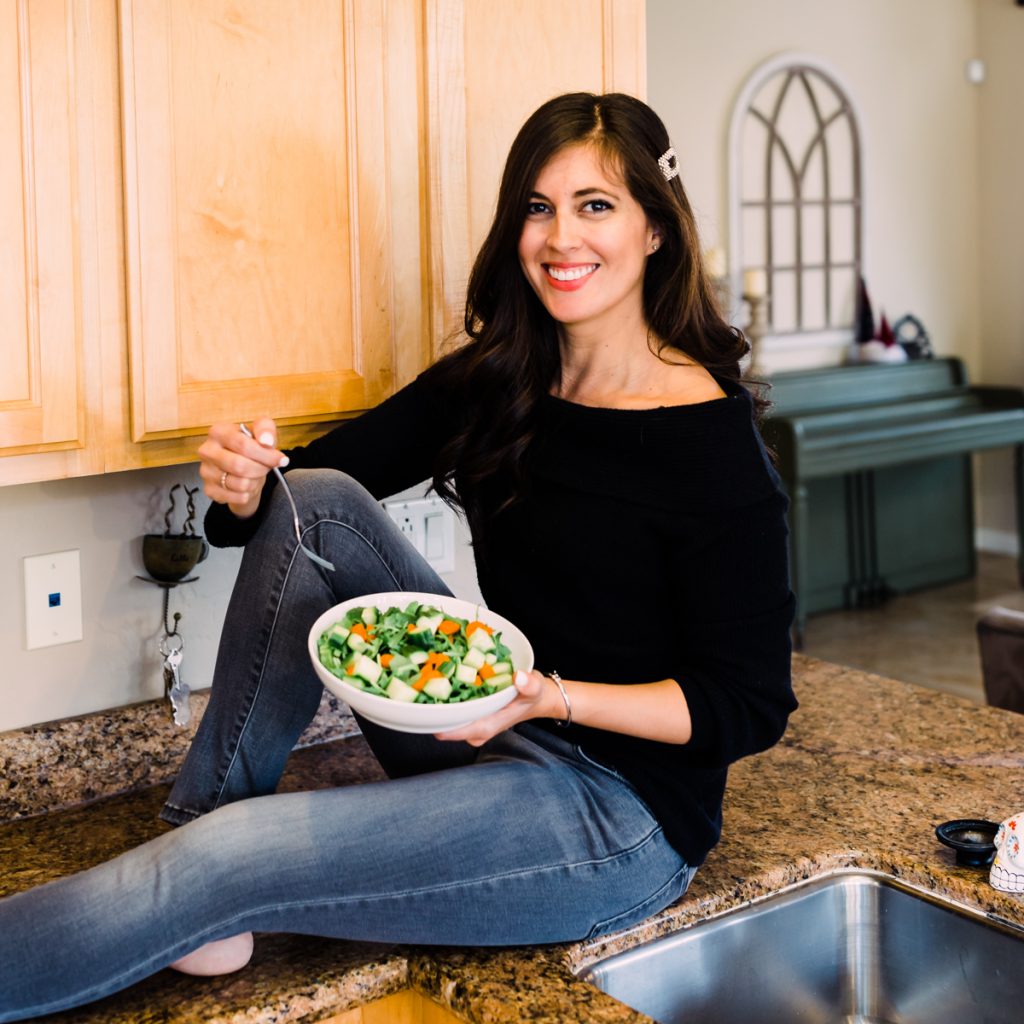 When I make salads, I try to amp them up with as many delicious ingredients as possible. There's nothing more disappointing than when you order a salad at a restaurant and it's essentially a bag of lettuce with a few sad veggies sprinkled on top. You can keep your $15 bag of lettuce, mmm k? In order to be a good salad, it needs to have an equal lettuce-to-toppings ratio.
Healthy salad ingredients
Here are some of my favorite salad components:
– A mix of greens (I try to switch it up each week between mixed greens, kale, baby spinach, arugula, chard, and romaine)
– Chopped fresh veggies (carrots, cucumber, celery, bell peppers)
– Roasted or pickled veggies (I love artichokes, sun-dried tomatoes, beets, pickled green beans or okra, zucchini, squash)
– Cheese (feta, goat, and lately I've been enjoying crumbled vegan cheese or some nutritional yeast)
– Nuts/seeds (almonds, pumpkin seeds, hemp seeds, walnuts, candied pecans, sunflower seeds)
– Protein (leftover grilled chicken, sautéed shrimp, Beyond Meat sausage, chickpeas, lentils, tuna, hard-boiled eggs, or salmon)
With all of these components it helps to keep things exciting, because salads can get boring very quickly.
The best healthy salad recipes to go along with these are here.
For today's post, I thought I'd share some of my go-to meal prep salad recipes. You can make these in advance to enjoy throughout the week and are very helpful when the day gets crazy. Lunch is already waiting for you!
Here are 5 of my go-to meal prep salad recipes:
The best pasta salad recipe you will ever have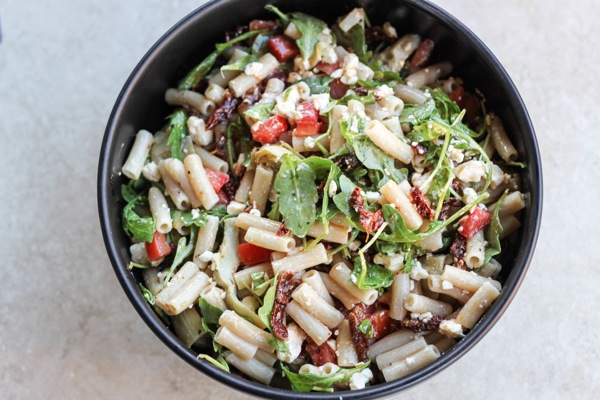 We enjoy this year-round and it's the best salad for get-togethers, picnics, and easy summer lunches. The best part is that it tastes even better the next day. So many of you have made this recipe and I'm so pumped you love it as much as we do!
My favorite kale salad with a delicious avocado almond butter dressing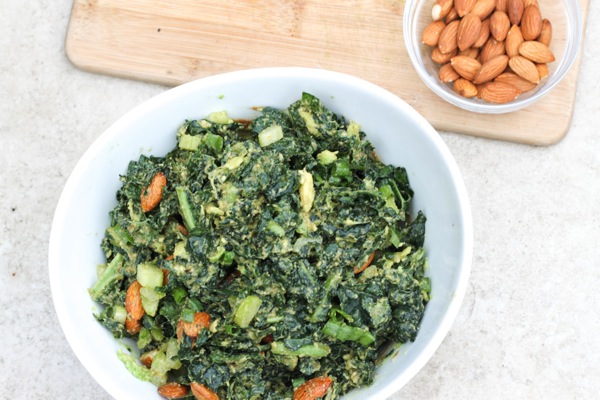 I got this inspiration for this recipe from my favorite vegan deli in San Diego at People's Co-op. I'd get this salad at least once a week and loved the creamy almond butter dressing in addition to the lovely soy sauce flavor and crunchy almonds. It's SO good. If you usually don't love kale salads, maybe give this one a whirl!
Chickpea curry salad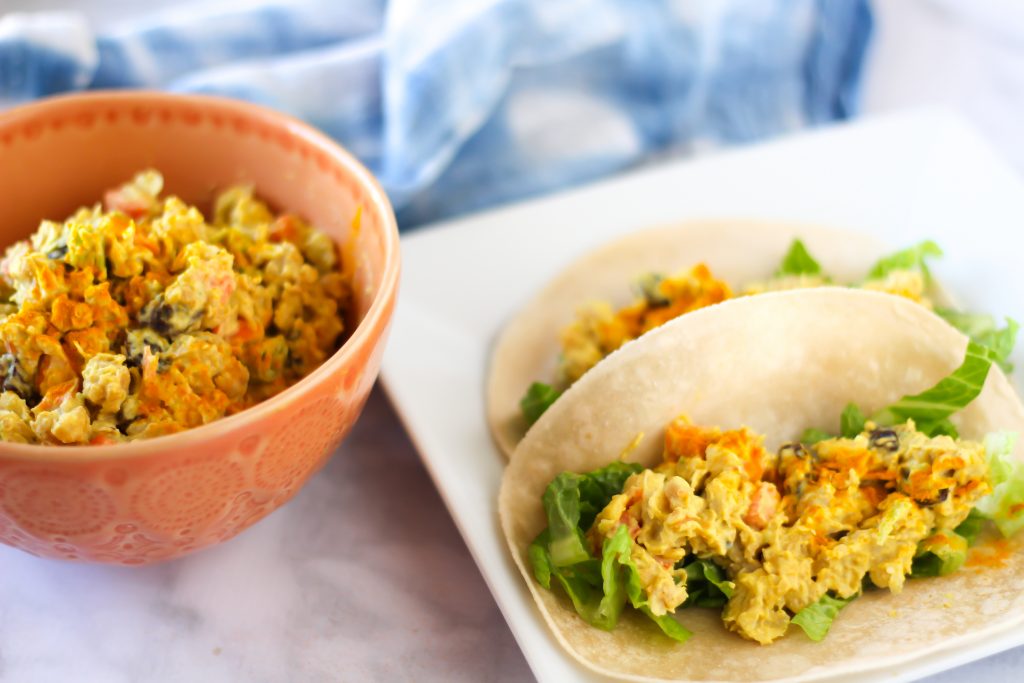 This is my latest favorite and I've been making it at least once a week for at least a month now. P goes crazy for it, too! It tastes amazing on top of a bed of greens, in a wrap, or on a sandwich.
Tempeh bacon BLT salad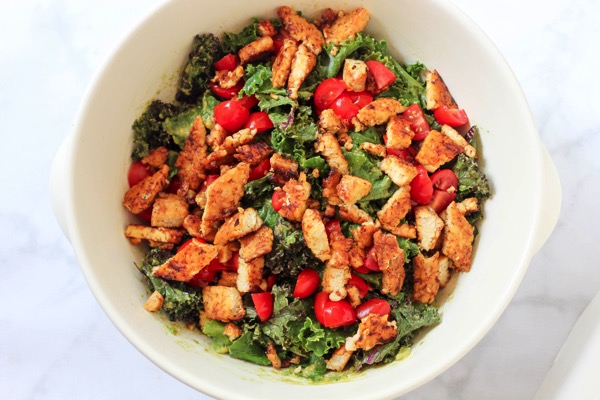 This is another vegan recipe and the star of the show is tempeh bacon. The tempeh bacon is also incredible on a BLT-style sandwich or scrambled with some eggs.
Spring salad with artichokes, quinoa, and asparagus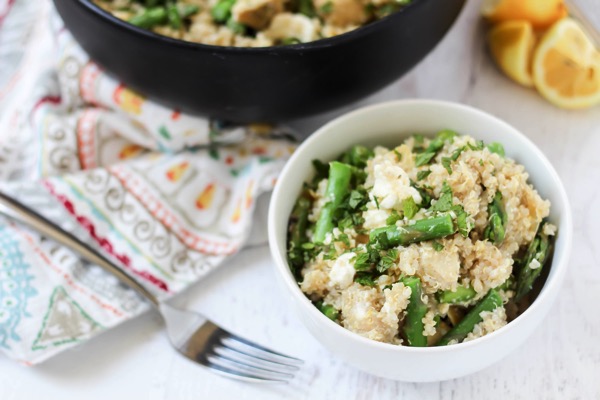 This is one of the most simple salad recipes but all of the ingredients go together so well. It's perfect for spring ?
So, tell me, friends: what's your go-to salad recipe or combo? I'm always looking for new ideas!!
Salad love photos by Kristi Harris